New Zealand Koru Dojo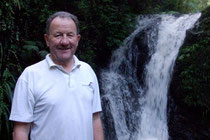 Unique geodesic dome-dojo surrounded by native bush
by David Lynch
Owner/Chief Instructor
The Koru Dojo
New Zealand
After living in Tokyo for 18 years and practising aikido in concrete buildings with little in the way of fresh air, I dreamed of building a dojo back home in New Zealand where Ueshiba Osensei's words about the link between aikido and nature would be more than just academic, a place where one could draw inspiration from the natural surroundings.

The Koru Dojo realises this dream and has worked its magic on aikido groups and individuals from as far afield as The Czech Republic, on the other side of the earth, and as near as Whitianga, our closest town, 15 kms away.

Practitioners of related disciplines, such as yoga, tai chi, meditation and various forms of well-being, also use the dojo for retreats and workshops and invariably find the atmosphere uplifting and enjoyable.

Many choose to combine their dojo-stay with a tour of The Coromandel Peninsula, one of New Zealand's greatest natural beauty-spots, with fabulous beaches, bush walks, and activities. See www.thecoromandel.com

The name "Koru" comes from the Maori word for the tightly-curled fronds of the native fern trees which surround the dojo. In New Zealand's native tradition the koru symbolises new beginnings, creativity and spirituality. After building a beautiful dojo in the city of Auckland that operated successfully for 10 years, we moved here in 1998 to get closer to Nature. The Koru Dojo was a new beginning for us , and is a source of creative inspiration for all those who choose to come and stay here.

Koru Dojo featured on the popular television documentary Asia Downunder. Click here to view.